7 Essential Questions and Answers
The concept of website keywords is simple, but the execution is complex. A few basic pointers can show you how to use keywords for SEO (search engine optimization). This means, most importantly, an increased number of visitors to your website.
What are keywords?
In a nutshell, keywords tell Google and other search engines what the webpage is about so they can suggest the page to searchers. Easy, right? Not so fast! The complexity arises in knowing which keywords to use, where to put them, how many to use – while not using too many – and whether synonyms count.
What keywords should I use?
In understanding how to use keywords for SEO, begin by asking yourself, "If I was looking for the information that's on this web page, what search terms would I use?"
Google Trends can help you fine tune that choice of words. You merely enter the possible search term to see how popular the phrase has been in Google searches. Google Trends also provides suggestions for alternative words and phrases.
How many words should I use?
Keyword phrases – aka, key phrases or long-tail keywords – are typically more effective at boosting your ranking on SERPs (search engine results pages). The ideal length is usually about three to five words. You also want to consider low-competition keywords (less common and less likely to be used by competitors), so larger websites and businesses don't push your site down on the results.
In a previous article on SEO, we used the example of a small local furniture store. Large established furniture store websites would likely get top billing for single keywords like furniture, sofas, and bookshelves. In addition, qualified customers know what they're looking for, as reflected in more detailed search queries like cedar patio furniture.
Let's say this local store is marketing a line of retro, mid-century modern furniture and adding a blog post on its 1960s-style barstools. A single keyword such as furniture would bury the post beneath multitudes of larger furniture store pages. Better would be a multi-word, long-tail keyword, such as retro barstools of the 1960s. The local store would benefit from location-based keywords, too, such as retro barstools in Charlottesville.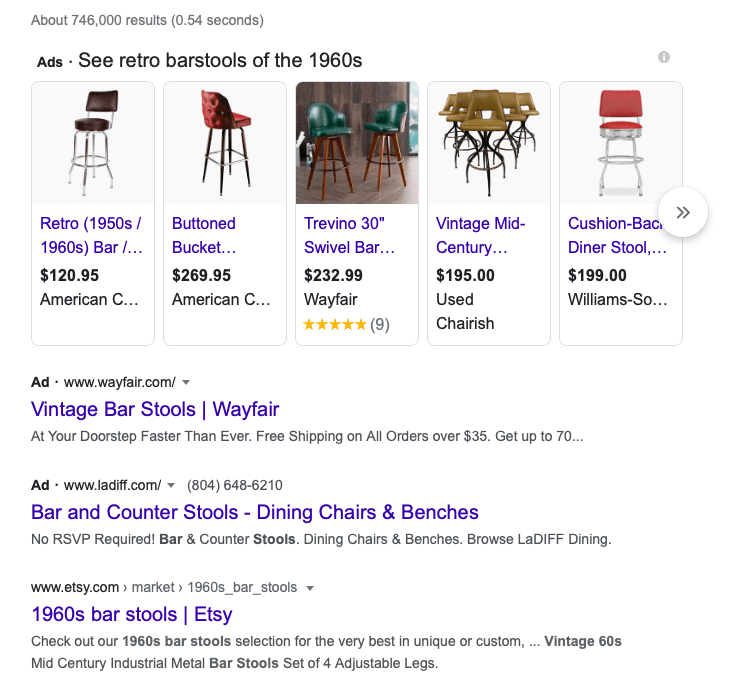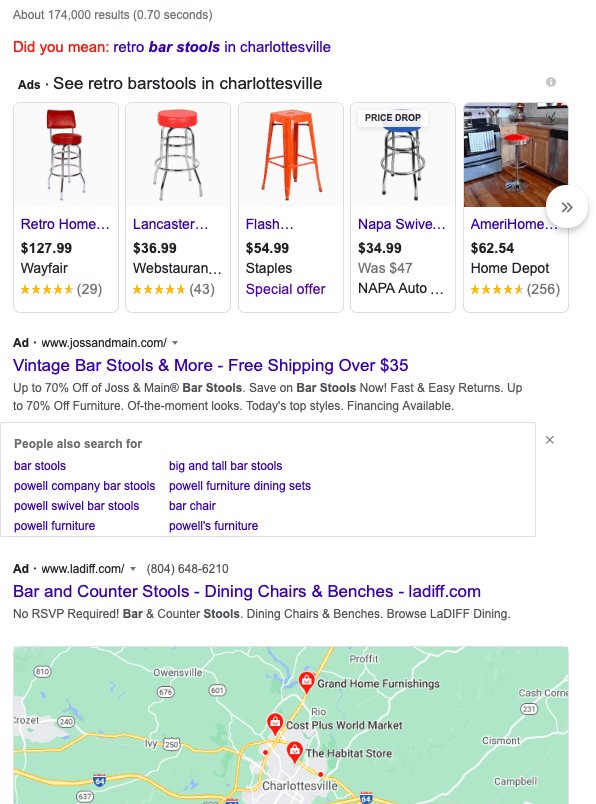 Google Trends doesn't dig deep enough to examine a targeted search such as retro barstools of the 1960s, but it does suggest alternatives for retro furniture, including retro metro furniture, retro outdoor furniture, etc.
Can I use irrelevant words to attract search engines and readers?
Search engines have become pretty savvy these days, and they can typically tell if you're putting in popular keywords that don't truly apply to your page.
How can they tell? When lots of users click the same link but return quickly to the results page to try another link, that tells the search engine that the result isn't what users expected. When users stay longer on a subsequent result, that second site will begin to rank higher. Search Engine Journal explains, "Google uses the signals from users themselves more than they value the words on the page."
Disappointed users send other negative signals to search engines, too, notably high bounce rate and short time on the site. These signals can be harmful to your placement on SERPs.
Do other words matter besides the few within the key phrase?
Yes! Use synonyms, too. They serve a dual purpose: improving the quality of your copy while helping search engines find your page.
If you recall your high school or college composition courses, you probably remember instructors drilling the use of synonyms into your head. Using the same word over and over gets repetitive and appears unprofessional. Instead, these teachers would have suggested, switch up the main word with a different word of the same meaning. If you were writing about your faithful dog, for example, you could also insert words such as pooch, pet, pup, hound, etc. He wouldn't merely be faithful, but he would be loyal, companionable, comforting, and devoted.
The second purpose of keywords in web content is to increase the chance that readers find the page. Plenty of users might not choose exactly the same keywords you decide to use, but they might instead enter synonyms. Instead of retro barstools of the 1960s, they could look up nostalgic 1960s bar chairs, mid-century modern, bar furniture, kitchen stools, etc. Instead of teakwood patio furniture, they might search for wood outdoor furnishings.
An online thesaurus provides an easy source for finding synonyms (enter your keyword and synonym in the search bar), but if you are a content matter expert, you'll already know what other words people might use.
For retail and e-commerce sites, product variations help, too. For example,
Kong Dog Toys
Kong Classic
Kong Plush Toys
Kong Wubba
Kong Fetch Toys
Always, in using your keywords and the synonyms, let them flow naturally in your copy. Forcing them can make your writing seem stilted, inaccurate, and difficult to comprehend.
Much has been written about a similar concept, LSI (Latent Semantic Indexing). This computational method for improving information retrieval was developed in the late 1980s. It aimed to better "read" and "understand" the semantic relationships between words in documents in order to index them better. Latent semantics includes synonyms.
The utilitarian value of factoring LSI in to improving SEO, however, is debatable. Some experts still say, "Yes! Google uses LSI so you must understand it to improve your SEO!" However, John Mueller, webmaster trends analyst at Google, tweeted in July 2019, "There's no such thing as LSI keywords — anyone who's telling you otherwise is mistaken, sorry."

Probably the best conclusion to the conundrum comes from Search Engine Journal. "Even if there is no evidence that Google uses LSI, adding synonyms throughout your content won't do any damage. As such, it's worth giving it a try."
As a professional writer, I'll add that using synonyms benefits your writing, so go for it – especially when you find yourself repeating one word too often!
Where do I place these important words?
The key phrase needs to appear several places in your post.
In the title
In the introduction (first paragraph)
Within the content
In a subhead
In the meta description
In the URL
In the alt text of an image
Similarly, synonyms can be sprinkled in the content, subheads, alt text, etc.
In the example above, retro barstools of the 1960s fits easily and naturally into a post.
In the introduction: … Classic retro barstools of the 1960s have several elements in common.
Within the content: … Retro barstools of the 1960s make you feel like you've traveled back to your childhood home.
In the title: Update your kitchen with retro barstools of the 1960s
In a subhead: Swiveling retro barstools of the 1960s
In the meta description: Learning about retro barstools of the 1960s helps you appreciate this fun furniture that adds a colorful element to your kitchen.
How many should I use?
No magic formula exists for determining the total number of keywords per page. Certainly, the number depends upon the length of the copy. A 500-page blog post wouldn't need as many keywords as a 1,500-word post. Similarly, no magic formula exists for determining optimal keyword density, i.e., the number of times the focus words occur vs. the total number of words in the text. Yoast suggests that the ideal percentage varies between 0.5% and 3% – not factoring in synonyms.
Most importantly, you want to make sure that you don't repeat these same words and phrases too often. Overstuffing your post potentially harms both the composition and the SEO and make your site look spammy.
In mastering how to use keywords for SEO, always remember that ideal website copy accomplishes two purposes: it helps SEO and it communicates the message in a manner both clear and engaging. To that end, use these essential words naturally in your writing to please both search engines and visitors – your potential customers!
A website provides an essential tool in today's business environment, and how to use keywords for SEO is only one of many elements. Ross Media Solutions can be your partner in website creation, targeted media promotion, social media strategy, and more. RMS has been producing niche media and digital marketing for 20 years and is eager to take your business to the next level.